Sensicutan® Cream
We are looking for licence partners for domestic sales and export to other countries.
Ointment (cortisone-free)

 


Alpha-bisabolol, heparin combination

 


Acute and chronic eczema, neurodermatitis, inflamed skin, skin allergy, itching

 


Drug approval

Sensicutan® is approved or registered in the following countries: Germany, Austria, Switzerland, Peru

Sensicutan Package Germany and China
Sensicutan Package Austria
Sensicutan Package Switzerland
Further information on Sensicutan®:
Sensicutan® product benefits - USP
Sensicutan® – the steroid-free therapy concept for itching, eczema, neurodermatitis
Anti-inflammatory – anti-allergic – anti-prurigo!
Cortisone-free therapy concept:
SENSICUTAN® cream is a cortisone-free local medication for the treatment of eczematous skin diseases which are often accompanied by itching such as
acute and chronic eczema
atopic dermatitis (e.g. neurodermatitis)
allergic skin diseases
prurigo
Effective active substance combination of alpha-bisabolol and heparin
The coordinated and balanced combination ensures rapid efficacy and is characterized by
a strong anti-inflammatory effect and
rapid soothing of itching
Highly developed emulsion system
The emulsion system of SENSICUTAN® cream is highly developed in terms of its galenic and cosmetic properties and, as a moisturising cream base (O/W), ensures an optimum effect of the active substances alpha-bisabolol and heparin.
Good skin tolerability/non-irritating on the skin/for children as of 3 years
SENSICUTAN® cream is especially suitable for sensitive skin areas and, in particular, for the treatment of neurodermatitis, which is increasingly common in children. Sensicutan® is approved for children as of 3 years. SENSICUTAN® cream soothes and heals skin irritated and damaged by scratches.
For acute and long-term therapy
SENSICUTAN® can be used equally for acute and long-term therapy of stubborn, allergic skin conditions and eczema in patients with dry, normal and greasy skin.
Effect mechanism: specific antiphlogistic efficacy:
Of primary importance for the treatment of eczema and allergic skin conditions is the specific anti-inflammatory effect. Both of the active ingredients contained in SENSICUTAN® cream – levomenol (alpha-bisabolol) and heparin – penetrate well into the skin. Here they exercise their specific antiphlogistic effect and inhibit inflammation mediators. As a result, reddening (erythema) and burning of the skin – two typical symptoms of eczema – are substantially reduced. In addition, heparin also has an inhibiting effect on various lysosomal enzymes – an effect which is also typical for other anti-inflammatory agents. At the same time, heparin also has an anti-allergic effect due to the binding of histamine.
Rapid soothing of itching: binding of histamine
Itching, which frequently occurs as an unpleasant secondary symptom of eczema, is suppressed by the pronounced efficacy of heparin. This natural substance binds histamine, which is known to be released in large quantities in the case of eczema, and which is the main cause for the often unbearable itching caused by this disorder. In addition to this, heparin also has an inhibiting effect on various lysosomal enzymes – an effect which is also typical for other anti-inflammatory agents. At the same time, heparin also has an anti-allergic effect due to the binding of histamine.
Metabolic activation supports regeneration of the skin
The combination of heparin and levomenol (alpha-bisabolol) in SENSICUTAN® cream regenerates the epithelium of the skin damaged by the eczema by metabolic activation.
Benefits for the skin:
steroid-free, low-risk therapeutic agent
strong anti-inflammatory agent
rapid soothing of itching
excellent skin tolerability
pleasant cosmetic properties
Excellently clinically documented and approved medicinal product (→ see studies)
Sensicutan® Clinical Studies
Sensicutan® is excellently clinically documented:
The scientific study material may be used by licensees both for registration and marketing purposes.
 ArenbergerHladícova

Holcova

2011

 

 Clinical double-blind four-arm study: Additive cutaneous efficacy of heparin and levomenol* in the treatment of neurodermatitis. Objective of the controlled double blind study on 278 patients with dermatitis atopica was the proof of the superior efficacy of the active ingredient combination (levomenol and sodium heparin) compared with the single active ingredients and the cream base. Itching and SCORAD-Index improved under verum highly significantly. Clinical relevance was reached for the verum, however not for the reference preparation, already after 4 weeks. The combination turned out to be significantly more effective against itching and inflammed skin than preparations of the single components – also according to patient and doctor – with excellent tolerability.

*Sensicutan®

ArenbergerBuchvald

2005

Clinical double-blind study: Evaluation of efficacy and safety of a levomenol-heparin-combination* with dermatitis atopica and allergic eczema in comparison with placeboIn 104 eczema patients in a clinical double-blind study the anti-eczematous, anti-allergic, anti-itching and anti-inflammatory effect of Sensicutan cream versus placebo (= cream base without active ingredients) was tested. Significant superiority of the active ingredient combination was already shown in the first week of treatment. Reduction of erythema (-82,4%), itching (-77,3%) and skin dryness (-69,2%) after 8 weeks could be observed as well as a very good tolerability and the lack of undesired effects.

*Sensicutan®

Evaluation of efficacy and safety of a cream with levomenol and heparin in patients with atopic eczema: Placebo-controlled clinical double blind study. Referates in Dermato-Venerology 47 (2): 18-21 (2005)

Selzle1993
Expert Opinion about the application of Sensicutan® ointment of the company Harras Pharma Curarina for atopic dermatitis and chronic eczema, München 1993Over a period of eight years around 500 patients per year were treated with Sensicutan ointment. Not only after an initial therapy with corticoids but also as an immediate treatment with Sensicutan a clear effect could be obtained (success rate of between 70-80%), almost free of side effects. The antiinflammatory, anti-eczema and anti-prurigo effects were especially observed in comparison with the preparations (creams) that contained only one active principle. Sensicutan with its adequate combination of two active substances is in this case more efficient.

It was striking as well that after the application of the preparation the prurigo disappeared and that, in contrast to other dermatological products against eczema, with Sensicutan – particularly with children with neurodermatitis – a curing or healing effect of the skin could be observed.

  

 

Tronnier

Rüping

1991

 Expert report on a observational study in a dermatological practice regarding efficacy and tolerability, Institute for Experimental Dermatology, University Witten-Herdecke 1991The pilot study was carried out during two weeks with 6 dermatitis atopica patients in an ambulatory practice. All patients were suffering from constitutional dry skin with up to medium eczema. The product Sensicutan was applied twice daily, a course control was carried out in the practice after 4 days, after 1 week and after 2 weeks. The clinical parameters erythema, dryness, flaking and pruritus were evaluated. The efficacy was predominantly described as good by the treating physician as well as the patients. The sickness symptoms did not get worse in none of the cases. In summary, Sensicutan is very suitable for the treatment of dermatitis atopica. An administration recommendation is especially given for the curing period and the steroid-free interval.
Tronnier1990

 

Specialist's dermatogical expert report on an epicutaneous testInstitute for Experimental Dermatology, University Witten-Herdecke 1990

Tests on the tolerance and efficiency of Sensicutan ointment made under the responsibility of Prof. Dr. Hagen Tronnier, Ph.D.: The testing was carried out with 50 patients in an ambulatory practice. The epicutaneous test serves as a proof for a primary skin irritation resp. contact allergy, by epicutaneous contact, limited by time and locality, with Sensicutan® to be tested. Sensicutan® is fixed on the clinically healthy skin by using a commercial test strip. The test strip is removed 48 hours later and the test area directly examined. Further examinations are carried out after 72 hours. No positive or questionable reactions were found, neither after 24 hours nor after 72 hours.

TronnierHeinrich

1990

Expert Opinion: Application test with Sensicutan Cream, Institute for Experimental Dermatology, Witten-Herdecke 1990Sensicutan® was used on 22 test persons over a period of three weeks. The application was twice daily.

With overall good cosmetic rating, predominantly the good tolerance as well as the conditioning effect on the skin were described. Also positively rated were the uptake by the skin and the neutral smell. No side effects were noticed  in any of the test persons.
Sensicutan® Marketing Germany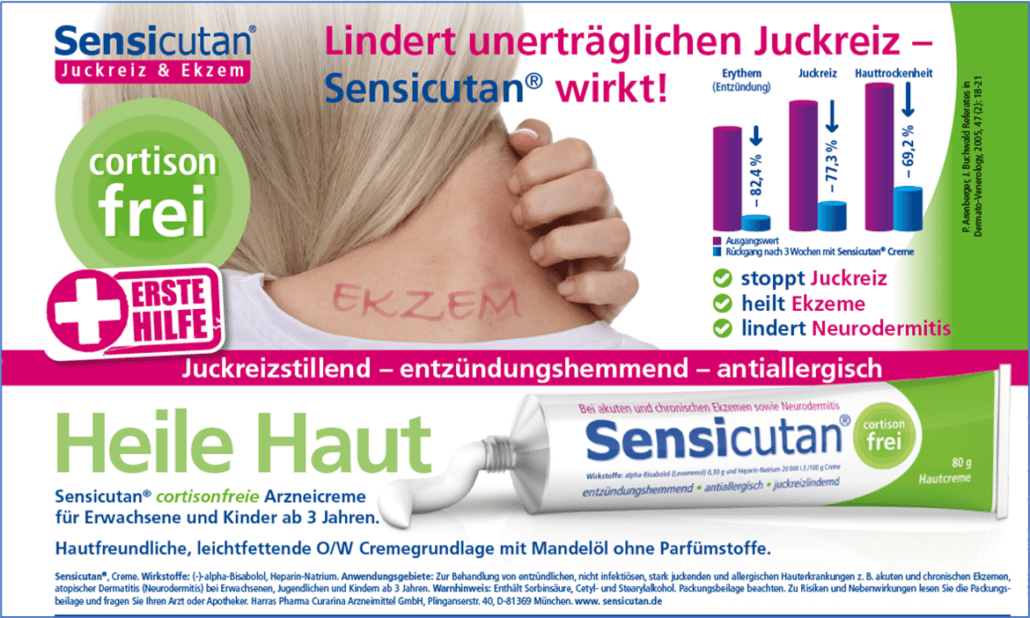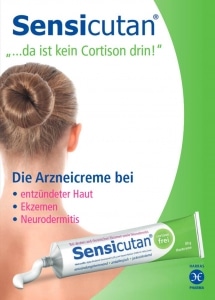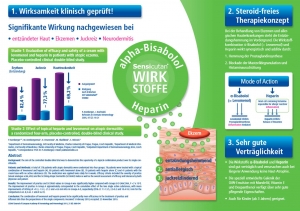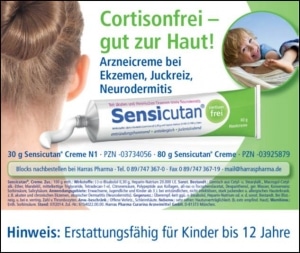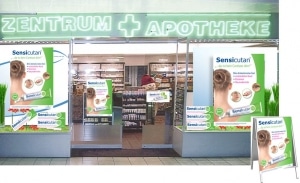 Sensicutan® Marketing Austria